Stephen Glauser and Saskboy have organized a Saskatchewan Bloggers BBQ and day of events for Saturday July 22, 2006 in Regina's Lakeshore Park starting at 1:00 PM.
& Meet on August 19th, 1 pm at Diefenbaker Park in Saskatoon.
Lakeshore Drive is south of Wascana Lake, and you can see directions from Google here.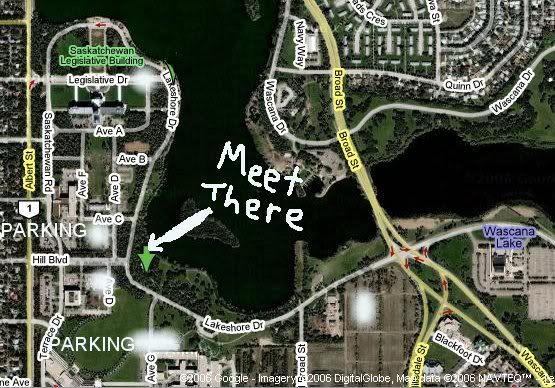 Check near Ave. G at the Totem Pole.
Stephen and Saskboy are providing a burger or hotdog to each blogger and their guest(s) who RSVP by July 20. The BBQ is free, and is Pot Luck. Everyone eating is asked to bring a food item to share. Contributions for the grill rental and meat are welcome. People with special dietary concerns should contact Saskboy prior to July 20.
There are not neccessarily enough picnic benches for everyone, so please bring a blanket or lawn chairs if you don't want to sit on the grass. Everyone can bring stuff like ball gloves, footballs, frizbees, etc.
At 4:00 PM you can join us in heading to Taylor Field to see the Argos take on the Riders at 5:00 PM. If you're interested in sitting with the group of bloggers, mark that on the RSVP form, and Stephen will let you know the price of tickets. Comment if you have your own tickets, but want to sit with us and we'll try to let you know where we are sitting. Attendees who don't want to see the game can do whatever. Here are some suggestions of Regina events:
Royal Sask. Museum concludes a special Centennial week.
Science Center is just to the north east of the park off Broad St.
Moose Jaw has a festival of Words. Forget has a festival Saturday too. And Coronach has Outlaw Days if you're looking to head out of town to see the south of the province.
After the Rider game we'll be meeting at the Cathedral Village Freehouse on Albert St. north of 13th Ave. under a reservation for "Saskbloggers". Only a few tables don't allow minors, so all ages are welcome. [The reservation is for 9:00 PM for 8 people, but that's just a guestimate at the number of people, and the time after the football game.]
Click here to RSVP.
Click here to see the list of registered attendees.